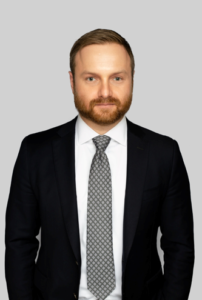 Counsel
Location: Atlanta, Georgia
Phone: (404) 233-4171
Fax: (404) 261-2842
Contact: lkogan@cglawfirm.com
Leo Kogan is an experienced attorney who represents companies and individuals in civil litigation, arbitration and government and regulatory investigations. His clients include securities broker-dealers, registered representatives, investment advisors and healthcare providers, among others.
Before joining Chilivis Grubman Dalbey & Warner, Leo was a Senior Associate in Eversheds Sutherland (US)'s Atlanta office, where his practice was focused on representing corporations, broker-dealers, registered representatives and investment advisors in civil litigation, arbitration, regulatory investigations and other proceedings.
Leo has tried numerous Financial Industry Regulatory Authority (FINRA) arbitrations through award, frequently as lead counsel, in cases involving disputes arising from transactions in stocks, bonds, mutual funds, options and structured finance products. Leo has substantial experience representing corporations in private securities class actions and state court actions, and he regularly takes and defends depositions. Leo's cases have also involved allegations of breach of contract, theft of trade secrets and violations of employment agreements, among others.
Leo also has experience representing broker-dealers, investment advisers, accounting firms and registered representatives in enforcement actions, investigations and exams involving the US Securities and Exchange Commission (SEC), FINRA and state regulators and he has conducted internal investigations on behalf of financial institutions, investment advisers, broker-dealers and public companies.
Before relocating to Atlanta, Leo was senior director at a leading publicly traded national investment firm, where he served as litigation in-house counsel.