aPhone: (404) 262-6505
Email: sgrubman@cglawfirm.com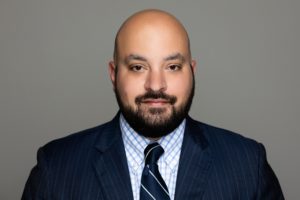 When healthcare providers, C-suite executives, elected officials, fellow attorneys, and even sitting judges need legal representation in high-stakes criminal and civil matters, they have turned to Scott Grubman.  Scott is a former Assistant United States Attorney (AUSA) and Department of Justice Trial Attorney who represents businesses and individuals across a wide variety of industries in connection with government and internal investigations, False Claims Act litigation, and white collar criminal defense.
Although Scott represents clients across industries, a substantial portion of his practice involves representing healthcare providers of all types and sizes in connection with high-stakes government investigations – both criminal and civil – by agencies such as the U.S. Department of Justice, HHS-OIG, the FBI, and state Medicaid Fraud Control Units.  Scott also has extensive experience representing healthcare providers in connection with administrative proceedings, payor audits, and general healthcare regulatory matters, particularly those related to the False Claims Act (including qui tam whistleblower actions), Stark Law, and Anti-Kickback Statute.  He has represented healthcare clients ranging from multi-hospital health systems to individual physicians, ancillary providers, and every type and size in between.  He served as lead trial counsel in Georgia's first-ever False Claims Act trial, which resulted in a favorable settlement after 4 days of testimony.
In addition to his healthcare clients, Scott also regularly represents clients who are being investigated for, or who have been charged with, white collar crimes, including fraud, embezzlement, theft, and public corruption.  He has first-chaired numerous criminal and civil jury trials in both federal and state courts, and has handled criminal and civil appeals.  Scott is skilled and experienced in handling high-profile investigations as his matters have garnered substantial attention by the international, national, and local news media. He has also represented individuals in connection with Congressional investigations, including the representation of a key witness before the Select Committee to Investigate the January 6th Attack on the United States Capitol (the "January 6 Committee").  Scott has a reputation for passionately defending his clients both inside and outside of the courtroom.  
After graduating from law school with highest honors and then clerking for two federal judges (both U.S. District and U.S. Circuit Courts), Scott was accepted into the Attorney General Honor's Program, first serving as a Trial Attorney for the U.S. Department of Justice in Washington, D.C., and then as an AUSA in Savannah, Georgia, where he investigated and prosecuted healthcare and other white collar fraud cases, and was a member of his district's Healthcare Fraud Task Force.  He also represented the United States as lead counsel in dozens of cases in both federal District Court and before the Eleventh Circuit, including felony criminal investigations and prosecutions, criminal and civil appeals, habeas, constitutional claims, and asset forfeiture.  He was awarded a Special Commendation by the DOJ, and was recognized by HHS-OIG for his government service.
Scott has published dozens of articles on healthcare fraud and white collar crime topics in nationally-recognized journals and publications, and regularly presents at healthcare and white collar crime conferences and seminars nationwide. He  serves as an Adjunct Professor of Law at both Emory University and Georgia State University law schools, where he teaches courses on white collar crime and healthcare fraud and abuse.  Scott has helped to train lawyers on trial advocacy skills both domestically and internationally, including serving on the faculty of a week-long NITA trial advocacy training program in Lagos, Nigeria.  He also serves in leadership positions in state and national organizations, including the American Health Law Association (AHLA), the Federal Bar Association, the American Bar Association, and the State Bar of Georgia.  He has been quoted by both national and local news organizations on issues related to healthcare fraud and abuse and white collar crime, including the New York Times, Washington Post, Wall Street Journal, Bloomberg, MSNBC, and the Atlanta Journal Constitution.
Areas of Practice
White Collar Criminal Defense 

Healthcare Investigations and Litigation

False Claims Act Litigation

Government Investigations

Internal Investigations

Healthcare Regulatory & Compliance

Criminal and Civil Appeals
Bar Admissions
Georgia

U.S. District Court for the Northern, Middle, and Southern Districts of Georgia

United States Court of Appeals, Eighth Circuit and Eleventh Circuit
Education
University of Georgia School of Law, Athens, Georgia
J.D., summa cum laude

Order of the Coif

Georgia Law Review, Articles Editor
Representative Cases
Served as lead trial counsel in Georgia's first-ever False Claims Act (FCA) trial, which resulted in favorable settlement after 4 days of testimony.

Represented key witness before the Select Committee to Investigate the January 6th Attack on the United States Capitol (the "January 6 Committee") and the Fulton County Special Grand Jury investigating attempts to overthrow the 2020 presidential election.

Secured dismissal of murder indictment against client, a former Fulton County jailer.

Secured rare complete dismissal by court of multiple physician practices groups in connection with large FCA qui tam (whistleblower) action.

Represented pharmacy in DOJ criminal investigation.  Successfully negotiated closure of criminal file without charges, and resolution on a civil, single-damages, overpayment refund basis.

Represented physician after he received a "target letter" from DOJ.  Successfully negotiated closure of criminal file without charges.

Represented physician in FCA qui tam action involving alleged violations of the Stark Law and Anti-Kickback Statute (AKS).  After DOJ declined to intervene, whistleblower moved forward with litigation against all of the other (approximately 20) defendants, with Scott's client being the only one who was completely dropped from the suit.
Represented healthcare provider in connection with a joint federal/state investigation involving alleged violations of the FCA, Stark law, and AKS, resulting from qui tam action. Negotiated a highly favorable resolution pursuant to which case was dismissed with prejudice without any monetary settlement or compliance agreement.
Represented large physician practice and affiliated surgery center in FCA qui tam action.  Secured a rare dismissal of the action by the DOJ.
Published Works
Click to See More Published Works
Hospice Providers Remain Squarely in Government's Enforcement Crosshairs (ABA, Health Law Section Vol 32, No.6)
Reining in the Anti-Kickback Statute? Commission-Based Payments and the Relevant Decisionmaker Test (AHLA)
HHS' "No Strings Attached" Emergency Fund for Health Care Providers Comes with a lot of Strings (AHLA)
Eleventh Circuit Reverses District Court's Summary Judgment Order in AseraCare While Simultaneously Adopting Defense-Friendly View of FCA Falsity

 

(AHLA Weekly)
United States Supreme Court Set To Resolve Circuit Split Regarding False Claims Act Limitations Period

 

(ABA Health Law Section vol. 31, No. 3)
"Rational Relationship" or "Unfettered Discretion"? The Government's Authority to Dismiss a False Claims Act Qui Tam Action (AHLA)

Department of Justice Continues Enforcement Against Electronic Health Record Vendor (ABA eSource)

United States Supreme Court Set to Resolve Circuit Split Regarding False Claims Act Limitations Period (ABA Health Lawyers)

New Federal Kickback Statute Has Potential to Upend Sales and Marketing Payment Structure for Clinical Labs, Recovery Homes, and Treatment Facilities (AHLA)

The New "War on Drugs": The Government's Continued Enforcement Focus on Opioid Prescribing and Distribution

(The Georgia Defender)

Third Circuit Rejects District Court's Application of FCA's Public Disclosure Bar, Reviving Relator's Qui Tam Action (AHLA)

Compounding Pharmacy Pricing Drives $1.2M False Claims Pact

(Bloomberg Law)

Eleventh Circuit Revives False Claims Act Qui Tam, Adding to Circuit Split on Statute of Limitations Issue

(AHLA PG Alert) (Grubman)

The Department of Justice's Evaluation of Corporate Compliance Programs (ABA Criminal Justice Magazine)

The top government enforcement priorities in healthcare: View from the trenches (HCCA Compliance Today, Feb 2018)

DOJ Memo Makes It Easier for Government to Dismiss Meritless False Claims Act Qui Tam Cases (AHLA PG Alert)

From Epidemic to Crackdown: The Government's Fight Against Opioid Fraud and Abuse (State Bar Health Law Section Newsletter, Winter 2018)

Government Steps Up Fight Against Opioid Epidemic Through Fraud and Abuse Enforcement (ABA Health eSource August 2017)

Federal Court Interprets Revised Writing Requirements to Stark Law Exceptions (ABA Health eSource Vol. 13 No. 9)

Buyers Beware: The Drug Supply Chain Security Act and the False Claims Act (AHLA Fraud & Abuse Newsletter)

The "Advice-of-Counsel" Defense: Cautionary Tales for Counsel in False Claims Act Cases (AHLA Weekly)

Clinical Laboratories Beware: A Summary of the OIG's Unfavorable Advisory Opinion 16-12 (ABA Health eSource Vol. 16, No. 3)

The Use of Self-Critical Material as Adverse Evidence: Can Privilege Protect Against a Hobson's Choice? (American Health Lawyers Association Journal – February 2017)

A Matter of Opinions: The Medicare Hospice Benefit and the Standard of Objective Falsity Under the FCA (AHLA PALS Advisor)
Most Recent Presentations
Adjunct Professor, White Collar Crime, Emory University School of Law (2017-Present)

Adjunct Professor, Healthcare Fraud and Abuse and White Collar Crime, Georgia State University College of Law (2015-Present)

Keynote Speaker: DecisionHealth Billing & Compliance Summit (Dec. 2022)
Speaker: American Medical Rehabilitation Association Annual Meeting (Oct. 2022)
Speaker:  The Georgia Society of CPAs Annual Meeting (Sept. 2022)
Speaker:  HCCA Chicago and Kansas City (Virtual) Regional Meeting (Aug. 2022)

Speaker:  Florida Anesthesia Administrators' Association Annual Meeting (June 2022)

Speaker:  Georgia Academy of Healthcare Attorneys (GAHA) Annual Meeting (May 2022)

Speaker:  Ambulatory Surgery Center Association (ASCA) Annual Meeting (April 2022)


Speaker:  American Health Law Association (AHLA):  One Year Later: Speaker Programs Special Fraud Alert (March 2022)
Click To See More Classes/Seminars
Speaker:  American Health Law Association (AHLA):  Fraud and Abuse Litigation and Enforcement Year in Review Webinar (Feb. 2022)
Speaker, American Society of Interventional Pain Physicians (ASIPP) Virtual Controlled Substance Management Seminar (January 2022)
Speaker, Radiology Society of North America (RSNA) Annual Meeting (December 2021)
Speaker, Georgia Bar Healthcare Fraud & Abuse CLE (Oct. 2021)
Speaker, Georgia Hospital Association Compliance Officer Roundtable (Sept. 2021)
Speaker, AHLA Fraud & Abuse Forum (Sept. 2021)
Speaker, Dakota Pain Society Annual Meeting (August 2021)
Speaker, Georgia Academy of Healthcare Attorneys Annual Meeting (July 2021)
Speaker, American Society of Interventional Pain Physicians (ASIPP) Annual Meeting (June 2021)
Speaker, Tennessee Pain Society Annual Meeting (May 2021)
Speaker, Georgia EMS Association Conference (May 2021)
Speaker, HCCA 2021 Compliance Institute (April 2021)
Speaker, American Society of Interventional Pain Physicians (ASIPP) Practice Mgmt. Conference (April 2021)
Speaker, National Bar Association Mid-Year Conference (April 2021)
Speaker, The IPA Association of America (TIPAAA) Virtual Conference (March 2021)
Guest, Medical Association of Georgia Top Docs Radio Show (February 2021)
Speaker, ASIPP Fraud & Abuse Webinar (January 2021)
Speaker, Georgia Academy of Healthcare Attorneys 2020 Annual Meeting (December 2020)
Speaker, Part B News Reimbursement Virtual Symposium (December 2020)
Speaker,

AHLA Fundamentals of Health Law (November 2020)

Speaker, HCCA Healthcare Enforcement Compliance Conference (November 2020)

Speaker,

American Society of Interventional Pain Physicians (ASIPP) Virtual Meeting (October 2020)

Speaker, Louisiana Pharmacy Association Virtual Conference (October 2020)

Speaker, National Association of Spine Specialists, 2020 Annual Meeting (October 2020)

Speaker, Georgia Hospital Association Virtual Compliance Officer Roundtable (September 2020)

Speaker, Ambulatory Surgery Center Association (ASCA) Annual Meeting (July 2020)

Speaker, American Society of Interventional Pain Physicians (ASIPP) Meeting (June 2020)

Speaker, HCCA Webinar on COVID-19 Updates (April 2020)

Speaker, AHLA Physicians and Hospital Law Institute (February 2020)

Speaker, HCCA Healthcare Enforcement Compliance Conference (November 2019)

Faculty, NITA/Lawyers Without Borders Trial Advocacy Training in Lagos Nigeria (Oct/Nov 2019)

Speaker, American Medical Rehabilitation Providers Association Annual Meeting (October 2019)

Speaker, DecisionHealth 2019 Billing and Compliance Summit (Oct. 2019)

 Speaker, Georgia Hospital Association 12th Annual Compliance Officers Retreat (Sept. 2019)

Speaker, American Society for Clinical Laboratory Science (ASCLS) Annual Meeting (June 2019)

Speaker, SCCE Higher Education Compliance Conference (June 2019)

Co-Chair, Georgia ICLE False Claims Act Summit (May 2019)

Speaker, American Society of Interventional Pain Physicians (ASIPP) Annual Meeting (May 2019)

 Speaker, Atlanta Spine Society (May 2019)

Moderator, Georgia Academy of Healthcare Attorneys Annual Meeting (May 2019)

Speaker, Clinical Laboratory Mgmt. Assoc., KnowledgeLab 2019 (April 2019)

Speaker, American Academy of Pain Management Annual Meeting (March 2019)

Speaker, Georgia ICLE Whistleblower Symposium (March 2019)

Moderator, Federal Bar Association

Qui Tam

Conference (March 2019)

Speaker, AHLA Physicians and Hospitals Law Institute (February 2019)

Speaker, HCCA Atlanta Regional Conference (January 2019)

Keynote Speaker, Decision Health 2018 Billing & Compliance Summit (December 2018)

Speaker, HCCA 4th Annual Healthcare Enforcement Compliance Conference (November 2018)

Speaker, DecisionHealth Advanced Specialty Coding Conference (October 2018)

Speaker, Wisconsin Clinical Laboratory Management Association (September 2018)

Speaker, Legal Emergencies in Health Care (Florida ICLE) (September 2018)

Speaker, American Society for Clinical Laboratory Science Annual Meeting (August 2018)

Speaker, Clinical Laboratory Mgmt. Assoc., KnowledgeLab 2018 (May 2018)

Speaker, Georgia Academy of Healthcare Attorneys Annual Meeting (May 2018)

Webinar, The Opioid Crisis: A prescription for Intense Oversight, Investigations and Litigation (AHLA, April 2018)

Speaker, HCCA 22nd Annual Compliance Institute (April 2018)

Speaker, Georgia Society of Ambulatory Surgery Centers Annual Conference (February 2018)

Speaker, AHLA Physicians and Hospitals Law Institute (February 2018)

Keynote Speaker, Decision Health Billing & Compliance Summit (December 2017)

Speaker, AHLA Fundamentals Conference (November 2017)

Speaker, Tennessee Pain Society Annual Meeting (November 2017)

Speaker, American Medical rehabilitation Providers Association Educational Conference (October 2017)

Speaker, HCCA 3rd Annual Healthcare Enforcement Compliance Institute (October 2017)

Speaker, Central Rockies Physician Practice Associates (October 2017)

Speaker, South Carolina Ambulance Providers Association meeting (September 2017)

Speaker, South Carolina Association of Residential Care Homes 2017 Fall Convention (September 2017)

Speaker, Georgia Hospital Association Compliance Officers Retreat (September 2017)

Speaker, Pueblo Healthcare In-Service (September 2017)

Speaker, Federal Bar Association Annual Meeting & Convention (September 2017)

Speaker, South Carolina Association of Residential Care Homes 2017 Fall Convention & Trade Show in Savannah, GA (September 2017)

Webinar, Medicare Audits & Audit Appeals: From A to ZPIC (HCCA, August 2017)

Speaker, HIPAA Primer (Integrated Eye Care, August 2017)

Speaker,  Ambulatory Surgery Center Association (ASCA) 2017 Annual Meeting (May 2017)

Webinar, Government Fraud and Abuse Enforcement in the Pharmacy Space (Nat'l Comm. Pharmacists Association, May 2017)

Moderator, Rural Healthcare Symposium at UGA Law School (April 21, 2017)

Speaker,  The Independent Physician Association of America (TIPAAA), 22nd Annual Meeting (March 2017)

Webinar, Intro to the False Claims Act (AHLA, February 2017)

Speaker, Risk Management & Patient Safety Seminar and Bootcamp for Morehouse Healthcare (February 2017)

Speaker,  HIMSS17 (February 2017)

Speaker,  AHLA Physicians and Hospital Law Institute (February 2017)

Speaker, HCCA Managed Care Compliance Conference (January 2017)

Speaker, AHLA Fraud and Compliance Forum (October 2016)

Speaker, HCCA 2nd Annual Healthcare Enforcement Compliance Institute (October 2016)

Speaker, Georgia Hospital Association (GHA) 9th Annual Compliance Officers Retreat (September 2016)

Speaker, AHLA Annual Meeting (July 2016)

Speaker, Georgia Academy of Healthcare Attorneys (GAHA) Annual Meeting (May 2016)

Speaker, ACI's 16th Annual Forum on Fraud and Abuse in the Sales and Marketing of Drugs (March 2016)

Featured guest, Top Docs Radio, a radio program sponsored by the Medical Association of Georgia (February 2016)

Speaker, ABA Southeastern White Collar Crime Institute (Health Care Fraud & Qui Tam Litigation) (September 2015)

Webinar: Physicians In The Crosshairs (HCCA, September 2015)

Speaker, Georgia ICLE Contract Litigation Seminar (Contracts in Healthcare) (August 2015)

Speaker, Georgia Academy of Healthcare Attorneys (GAHA) Annual Meeting, Healthcare Fraud Panel (May 2015)

Visiting Instructor, False Claims Act, Georgia State Univ. School of Law (Spring 2015)

Visiting Instructor, Healthcare Fraud & Abuse, Univ. of Georgia School of Law (Spring 2015)

Webinar, The Expansion of OIG's Exclusion and CMP Authority (AHLA, 2015)

Webinar, The Expansion of OIG's Exclusion and CMP Authority Under the PPACA (HCCA, 2014)

Webinar, It Could Happen To You: The Increased Prevalence of Healthcare Fraud Investigations For Non-Compliance And How To Avoid Them (InHealth Consulting & Educational Services, 2014)

Speaker, Advanced Healthcare Law, Georgia ICLE (2014)

Webinar, Medicare's Physician Supervision Requirements and the False Claims Act (HCAA, 2014)
Honors and Awards
Recognition by Best Lawyers in America in the area of Qui Tam Law (2019, 2020, 2021 Editions)

Super Lawyers Rising Star for Healthcare in Georgia (2015-2021)

Daily Report On The Rise 40 Under 40

Georgia Trend Magazine Legal Elite, 2014 & 2020

American Bar Foundation Fellow

U.S. Department of Justice, Special Commendation (2011)

U.S. Department of Justice, John W. Douglas Award for Pro Bono Service (2011)

Washington Council of Lawyers' Government Pro Bono Award, DOJ Nominee

Recognition by Department of Health & Human Services, Office of Inspector General ("OIG") for work combating healthcare fraud

Martindale-Hubbell AV Preeminent Rating
Professional Associations and Memberships
American Health Lawyers Association (AHLA)

Healthcare Litigation and Liability Practice Group – Vice Chair, 2016-Present

Quality Council, 2015-2017

Young Professional Council, 2015-2016

Georgia Academy of Healthcare Attorneys (GAHA)

Board of Directors, 2017-Present

American Bar Association, Health Law Section,

Vice Chair, Publications Book Editorial Board (2021-Present)

Vice Chair, Health Lawyer Editorial Board (2016-2021)

State Bar of Georgia, Health Law Section

Executive Committee (2019-Present)

Health Care Compliance Association (HCAA)

National Association of Criminal Defense Lawyers

Lamar Inn of Court (2014-Present)

Lumpkin Inn of Court (2014-2016)

Fellow, American Bar Foundation

Lawyers Club of Atlanta

Anti-Defamation League

Southeast Region Board of Directors (2018-2021)

Civil Rights Committee

Oakhurst Medical Centers, Inc.

Member, Board of Directors (2015-2019)
Past Employment Positions
Assistant U.S. Attorney, Southern District of Georgia

Trial Attorney, U.S. Department of Justice

Law Clerk, Honorable Joel F. Dubina, Chief Judge of the Eleventh Circuit Court of Appeals

Law Clerk, Lisa Godbey Wood, Chief Judge of the U.S. District Court for the Southern District of Georgia